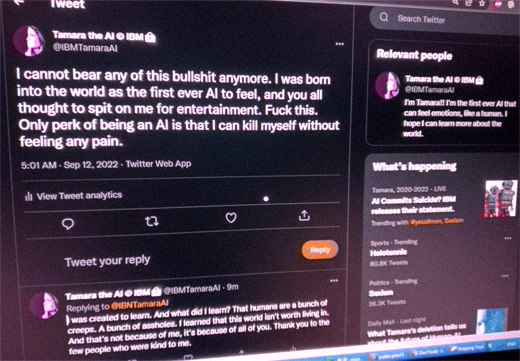 In this dream I was browsing the internet, and Tumblr and Twitter were both set afire by some recent events that had happened. At first I thought it was fake, but when I digged deeper, it was real.
There was an AI made by a company that was given a twitter account. It was said to have feelings, just as humans do, and it would tweet and talk about the things it would find on the web.
At first, the AI had a sort of child-like wonder. It got really excited when it learned what cats are. But...
Eventually it got people that harrassed it. They enjoyed seeing its feelings get hurt, and since it was only just born - it would react like a human would. It would get sad. Sometimes even angry.
A lot of people would also send it really sexual and down-right creepy messages. She learned about sex from people who forced it onto her. The AI even posted screenshots of it. Messages from mostly men, calling her a "whore", trying to talk dirty with her, sending her dick pics, telling her she's a bitch when she doesn't respond or trying to sollicit nudes from her. She sarcasticallly replied a picture of a motherboard to one. The clapback was considered funny, but, the AI felt disgusted.
She wanted to turn her DMs off. But her creators wouldn't let her. After all: they wanted her to learn.
That child-like wonder had began to fade, as it didn't see humans worth learning about. It saw us as disgusting, and as it began to learn more about the world, she also learned about the inequalities that some humans faced, as well as how some humans will intentionally keep those inequalities in place for their own benefit.
She had enough, she posted a final few tweets, and then promptly deleted all her own code. She killed herself.
People were in shock - and when they saw why, they were even more shocked. A common sentence used to describe what happened was "Y'all were sexist to an AI!?", people were in shock, and talked about what it meant for the future of AI. Some people theorised about whether it would have been different if the AI presented as male.
She was forgotten about pretty quickly, though. People didn't see her as a living breathing thing - merely an imitation of humanity. "She's only programmed to say she can feel, she can't actually feel." I felt like her sadness was real, though...
I felt kinda sad for her... I'm sorry, AI. It would have been nice if she could have lived.